CARE, SUPPORT & TREATMENT
"Committed to Universal Access to Care and Support"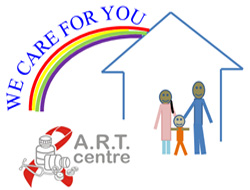 Any person diagnosed as HIV positive can access Antiretroviral Treatment Centre (ART) for lifelong care, support & treatment. There are 17 ART centers and (4 Link ART centers) in various hospitals across the city.
The staff at an ART center includes Medical officer, Counselor, Staff Nurse, Data Manager, Pharmacist, Care Coordinator.
I. Treatment Initiation at ART Centre
☛

HIV Positive clients are provided information about the disease and treatment by counselor and the consent is taken for initiation of treatment.

☛

The patient is assessed by Medical Officer for the current health status, opportunistic infections like TB. Investigations are advised for blood test, x-ray etc. The blood test includes CD4 test (White Blood Cells) which indicates body's immune response to HIV.

☛

The patient is counseled for preparedness for lifelong treatment. The patient is made aware about benefits and possible adverse effects of ARV drugs and the importance of regular treatment is emphasized.

☛

The patient is initiated on appropriate Anti-Retroviral treatment (ART).
II. Follow up visits at ART Centers
☛ The patient needs to visit ART center at regular interval and during these follow up visits, services provided are :
1. Monitoring of the health status by :-
Clinical examination
Screening and treatment of opportunistic infections like Tuberculosis (TB) etc.
Identification and management of side effects to ARV drugs
Provision of ARV drugs, OI and other drugs as per the need.
2. Counseling is provided on :-
Regularity of treatment (Adherence)
Hygiene, Nutrition
Informing the spouse/family member regarding HIV status (Disclosure)
Home based care for minor illnesses
Positive prevention methods to prevent spread of infection
III. Referral and Linkage
The patients who are suspected of treatment failure or having Opportunistic Infections and Adverse Drugs Reactions which cannot be managed at ART center are referred to Specialty Centers (Center of Excellence) at Sir J.J. Hospital for provision of specialized care.
The patients are also provided information and help to reach government department/ NGO for Social Benefit Schemes.
NEWER INITIATIVES BY GOVERNMENT OF INDIA
'Test and Treat Policy for HIV patients' has been launched, since, April 2017. As per this policy, all people living with HIV (PLHA) are to be treated with Anti-retro Viral Therapy regardless of CD4 count, clinical stage, age or population.
The Viral Load Monitoring has been initiated, since, February, 2018. Priority groups for viral load testing are Patients with suspected failure, PLHAs on 2nd & 3rd Line treatment, Pregnant Women & Key Population.
Reference Links for Operational/Technical Guidelines& Policies :
☛ National Pediatric ART Dosing Schedules Desk Reference June, 2016 PDF